The "Triaster" and "Triona"
South Sea Phosphate Carriers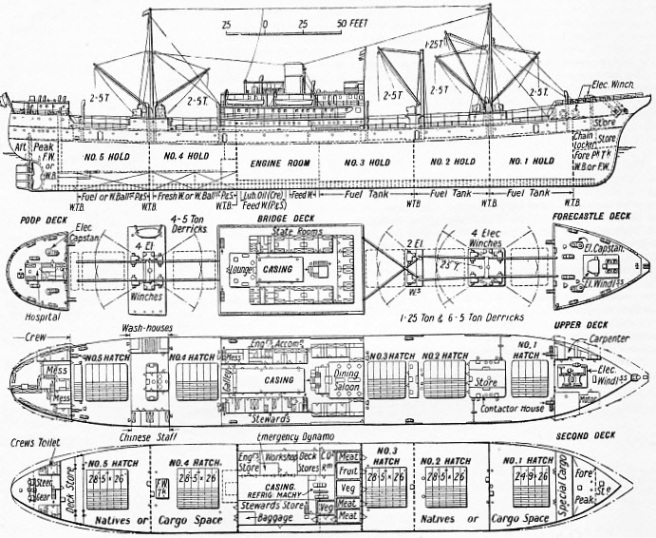 OF the special trades in the world few are less known or talked about than the phosphate trade. There is no particular homogeneity in the vessels which carry this special cargo, since so much depends on local conditions for loading and discharging. The Triaster, shown in the drawing above, is the second of two ships recently built in Great Britain for the British Phosphate Commissioners. The first vessel, the Triona, was built in 1931 with steam propulsion, a triple-expansion engine taking steam from three Scotch boilers 15 ft. 6 in. in diameter and 12 feet long, coal- or oil-fired. There are several differences between the two ships in the arrangement of superstructure.


The owners comprise representatives of the British, Australian and New Zealand Governments. The ships carry phosphates in bulk from Nauru Island and Ocean Island, in the Pacific, to Australian and New Zealand ports. The Triaster, built in 1935, carries forty European passengers in addition to natives. Special loading gear has been fitted on each of these islands, and it is for this reason
that special mooring winches and mooring laying gear are incorporated in the design.


This vessel has a cruiser type stern, and the tonnage opening is immediately forward of the poop. There are five cargo holds, three forward and two abaft the machinery space, and there is also one tier of 'tween decks. This can be used forward or aft of amidships for cargo; amidships on the port side is an engineers' store and workshop.


Four 5-tons derricks are arranged round the base of the mainmast, the winches for these being on contractor houses at the base of the mast.


Propulsion is by a Kincaid Burmeister and Wain airless injection four-cycle single-acting unit, rated for 3,600 brake horse-power at 115 revolutions. The electric load of this vessel, including provision for winches and special mooring gear, is reasonably large, and is supplied by three generators, each of 120-kilowatts output, driven by Allan four-cycle single-acting airless-injection units.




You can read more on "The Marwarri", "Romance of the Trade Routes" and "The Svealand" on this website.
You can read more on "Coral Island Engineering" in Wonders of World Engineering