The geographical position of the British Isles and their proximity to the mainland of Europe have given rise to an important coastwise trade, not only within British waters but also to neighbouring European coasts. The coastal trade of Great Britain has been described as the Cinderella of the transport industry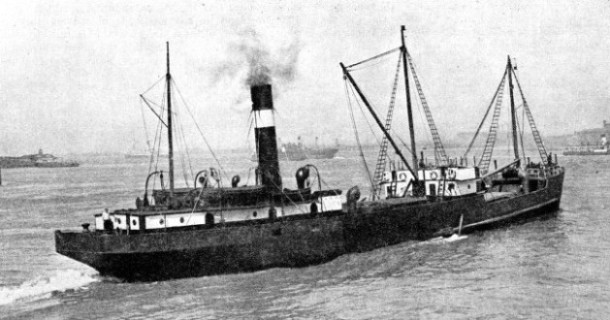 REGISTERED AT WEXFORD, IRELAND, the Wexfordian, a three-masted steamer of 809 tons gross, is seen in this photograph at the busy mouth of the River Mersey. The Wexfordian, owned by the Wexford Steamships Co., Ltd., was built in 1912 at Paisley, Scotland. She has a length of 199 ft. 2 in. between perpendiculars, a beam of 30 ft. 1 in. and a moulded depth of 13 ft. 7 in.
THE coastal trade of Great Britain has been described as the Cinderella of the transport industry — not that the other branches are necessarily the ugly sisters. It is certainly true that in conjunction with sea services generally the coastal trade has been somewhat neglected and forgotten.
As an alternative system of transport it is by a large margin the most economical to run. There is no restriction as to size and quantity of cargo it can carry and it is indispensable in the defence system of the country. It constitutes a valuable reserve of numerous small and efficient vessels and well-trained seamen. During the conflict of 1914-18 regiments of troops, horses, artillery, munitions and stores of all kinds were transported by coastal vessels without mishap.
Many of them were taken up by the Admiralty and converted for a number of purposes, notably for minesweeping and Q-ship work. Another important fact is that British coastal trade laid the foundation of the Merchant Navy and the Empire. Even to-day experiments are carried out in coastal craft before being applied to ocean-going vessels.
Coastal trade had its origin when the early Briton paddled his rough-hewn log-craft down river to barter the wares of his village for those of another a few miles away. As villages began to increase on the rivers and creeks, so a form of coastal trade came into operation.
Although Great Britain is an island, its proximity to the mainland of Europe enables coasting vessels to trade with ports on neighbouring foreign coasts. So, paradoxically perhaps, Britain's coastal trade includes trade with English Channel and European ports. Coastwise trade had spread across the English Channel many centuries B.C. This is known by the discovery of ancient English pottery, jet and other articles over 4,000 years old in France and Spain.
An interesting variety of commodities was being shipped between the ports which the Romans had established at Londinium (London), Rutupiae (Richborough, Kent), Magnus Portus (Portsmouth), and Camulodunum (Colchester), extending later up to Segedunum (Wallsend-on-Tyne) and on the west coast to Deva (Chester). Goods included corn, tin, lead, salt, livestock, earthenware and timber. From Gaul came oil, wine, woollen goods and iron, all incidental to the extensive road building and fortifications, and to feed and house the population which w'as even then gathering round these ports.
When the Romans withdrew the Britons allowed their shipping to fall into a bad state, and the Anglo-Saxons quickly took advantage of this. During the centuries which followed, coastal trade experienced recurring cycles of good and bad times. It was, however, slowly developing its service across the North Sea into the Baltic and across the English Channel to Spain and Portugal, all the time waging an intense warfare with hordes of pirates.
One of the earliest booms in the coastal trade occurred in the thirteenth century, when large quantities of wool were being exported, principally to Flanders. Another boom began in 1347 after the surrender of Calais to Edward III, when large quantities of French wines were shipped to England. This date is important because these wine shipments were responsible for the method of ship measurement which lasted for many years. The capacity of a vessel was calculated according to the number of "tuns" or casks of wine she could carry.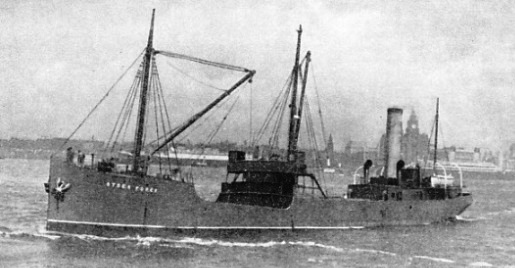 IN THE RIVER MERSEY the Stock Force, 983 tons gross, passes Liverpool Landing Stage. The Stock Force is registered at Whitehaven, Cumberland, and is owned by the West Coast Shipping Co. Ltd. She has a length of 203 feet, a beam of 33 ft 11 in and a depth of 13 ft 1 in. She was built in 1917 and served as a Q-ship during the war of 1914-18.
It is to coal, however, that British coastal trade owes its principal sustenance and development. When coal was first mined at Newcastle about 1230-40 it added a fresh and increasingly important commodity to the list of coastal cargoes. Soon coal became of primary importance, and to-day over 60 per cent of the cargo carried coastwise is coal. On its first appearance it met with considerable opposition, but by the fourteenth century large cargoes were being shipped to London and a duty of sixpence per vessel was levied at London Bridge.
One of the earliest coastwise charters recorded is dated 1290, when a vessel was engaged to deliver a cargo of cedar, wine, wheat and oats from London to Berwick-on-Tweed for a lump sum of 99s. Loading and discharging facilities were poor and these operations were effected alongside quays and embankments until early in the sixteenth century, when the first dock system was established. In 1700 the first wet dock was completed, the Howland Dock, named after the owner of the land at Rotherhithe upon which it was built. This later became the home of the whaling ships and its name was changed to Greenland Dock. This dock is used to-day by many of the Atlantic liners.
Coastal trade considerably increased at that time. Figures available for the year 1728 show that out of 8,886 vessels entering London as many as 6,837 were coastal craft. Seventy years later the number of coastal craft had increased to 11,964, so that the Thames was much crowded and the scene of considerable confusion. It was largely due to this congestion caused by coastal ships that the East and West India Docks were built.
Romantic Names
Coastal shipping consisted of a variety of craft and the names of some of them lend a romantic touch which has almost entirely disappeared to-day. The earliest vessels were built on the lines of the Viking ships, double-ended, open boats, stepping a single mast amidships. William the Conqueror introduced a more barge-like type with bluff bows and flat bottom.
In Tudor times vessels had increased in variety and included hoys, cats, bilanders, pinks, keels and cogs, followed by smacks, cutters, sloops and brigs. The brigs came into prominence at the
beginning of the eighteenth century and were an improvement on the schooner rig. They became famous in the north-east coast coal trade for their enduring qualities and for the fine type of seamen they produced. Known as the Geordie brigs, they lasted well into the nineteenth century. The passenger service was confined to the hoys, smacks and cutters, all single-masted craft and similar in appearance, small and carrying from ten to fifteen passengers. Travelling was not pleasant in those days, even in good weather. Accommodation was rough and far from comfortable, but with the introduction of steam a new era began in the coastal trade, first in the passenger service and then in the cargo service.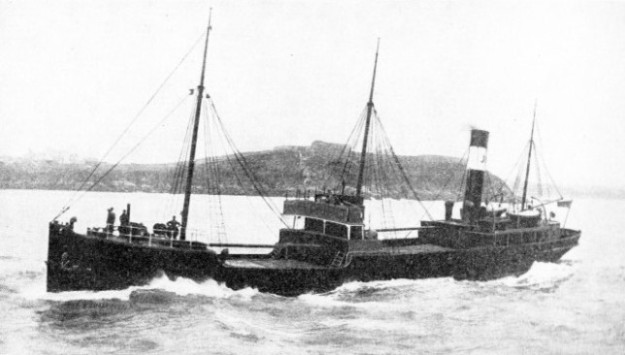 ROUND THE BRITISH COAST ply many craft of the type represented by the Clara Monks. She is a three-masted vessel of 577 tons gross, owned by John S. Monks, Ltd., and registered at Liverpool. Built at Ayr, Scotland, in 1920, the Clara Monks has a length of 170 ft. 2 in. between perpendiculars, a beam of 26 ft. 1 in. and a moulded depth of 13 feet, with a corresponding draught of 13 ft. 2 in.
Experiments with steam-propelled vessels had been carried on a few years when Henry Bell, of Helensburgh (Dumbartonshire), built the Comet and with her inaugurated the first passenger steamer service between Glasgow and Greenock in 1812. Three years later this service was extended to Inveraray and in 1822 to Fort William and on to Skye. Thus was founded the extensive West Coast of Scotland steamship service now covered by MacBrayne's luxury vessels (see the chapter "Twixt Highlands and Hebrides"). The Lochfyne and the Lochnevis are good examples of these vessels, both being equipped with diesel-electric machinery.
The first cross-channel service was inaugurated by David Napier with his Rob Roy. She sailed from Glasgow to Belfast in 1818, coming south to inaugurate the Dover-Calais service two years later. The Thames steamer service from London to Margate started in 1815, sounding the death knell of the famous Margate hoy beloved of Charles Lamb. And so the steam passenger services continued to spread and gain in popularity.
The great Atlantic Ferry services which operate to-day were inaugurated by a coastal steamer. The Sirius, of 703 tons, was built in 1838 for the London to Cork service. She was, however, chartered by the British and American Steam Navigation Company and sailed from London for New York, calling at Cork, whence she sailed on April 4 with ninety-four passengers. One of the first cargo and passenger steamers in the coastal trade was the Frugal, a paddle steamer, built in 1826 for the Glasgow-Belfast route. She had space for 180 tons of cargo, accommodation for thirty passengers, with a number of boxes on deck for livestock. The charge for the channel passage was three shillings on deck compared with the charge of £1 for cabin accommodation, including sleeping berth.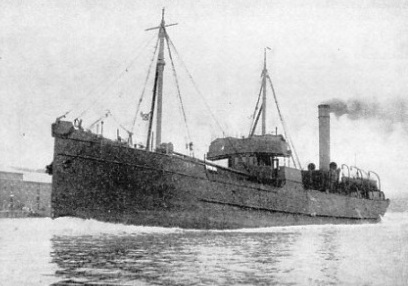 WITH MACHINERY AFT, the Test, a well-deck vessel of 530 tons gross, was built in 1890 and in 1936 was still actively engaged. Owned by Monroe Brothers Ltd, and registered at Aberdeen, the Test is 175 feet long, with a beam of 26 ft 6 in and a depth of 10 ft 1 in.
On the East Coast steam had not made its mark so rapidly for cargo services. The great bulk of the coal trade was in the hands of the collier brigs which had proved adequate to handle the cargoes satisfactorily, until the railways began to take a hand in the transportation. In 1842 a small iron collier, the Bedlington, was built for carrying coal on the short journey from Blyth
to the Tyne. She was fitted with a screw propeller, and was the first iron screw collier, the founder of the modern and efficient steam colliers seen to-day round the British coasts.
Among several interesting experimental vessels which followed were the Q.E.D. and the John Bowes. The Q.E.D. was a sailing vessel to which was added a screw as an auxiliary power, but she was the first vessel to be fitted with a double bottom for water ballast.
Eighty-one Years' Service
The John Bowes has been erroneously credited with being the first iron screw collier, which is probably due to the great publicity that was given to her at her launch from Palmers yard at Newcastle in 1852. She was put into Tyne-London trade and was still doing good work as recently as 1933. After many changes of nationality, she was then sailing under Spanish colours as the Villa Selgas, with a cargo of iron ore. She sprang a leak and sank off the country of her adoption, with the good record of eighty-one years hard going.
The success which attended these experiments established unquestioned the supremacy of steam, and completely drove the picturesque Geordie brigs off the sea. During the last decade of their existence they were unable to pay their way, and were only able to sail at all through the most drastic economies, so that, with bad gear, rotting timbers and inadequate crews, the losses among them were enormous. In 1865 the appalling number of 675 collier brigs was lost under these conditions. Other experiments included the freak ship Connector, and extended to improved methods of trimming and discharging. Later pioneering experiments successfully applied in coastal vessels include the steam turbine, introduced in the passenger coasters King Edward and Queen Alexandra in 1901 and 1902 on the Clyde. The geared turbine was successfully applied to the steamers Hantonia and Normania in 1911.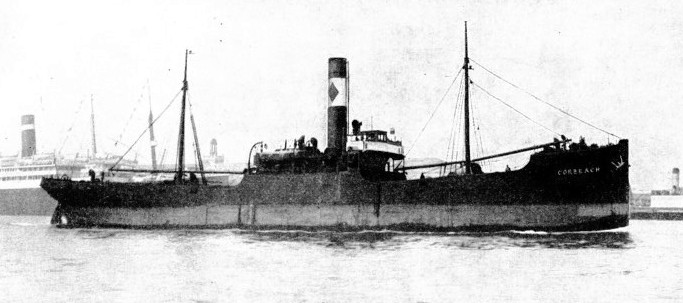 THE BLACK DIAMOND ON THE FUNNEL is characteristic of the colliers owned by Cory Colliers, Ltd. The Corbeach, a vessel of 1,569 tons gross, was built in 1913 as the Valegarth. She has a length of 245 feet between perpendiculars, a beam of 36 ft. 2 in. and a moulded depth of 21 feet. She has been sold to the Angelus Shipping Co., Ltd.
The next step in development was the motor vessel, and here the Thames claims the credit for having built the first motor coaster. The Grit was built at Greenhithe in 1913 by F. T. Everard. She was a small wooden ketch of 147 tons. Then war came in 1914 and while British coastal vessels and their crews, and many of their owners, were engaged on national service, the foreigner took the opportunity of considerably increasing his shipping and trade with our ports, thus establishing a footing whose effects have been felt ever since.
This foreign "invasion" has kept British coastal vessels laid up and their crews unemployed, until it was at length realized that British coastal craft must be built which were capable of competing with these foreign ships. The Dutch developed an efficient class of motor vessel of shallow draught, economical to run, capable of handling most cargoes with their own derrick and cheaply manned. The captain, his wife and family generally formed the complement. As long ago as 1603 Sir Walter Ralegh complained that the Dutch were cutting out the English coastal trade with their low freights, greater carrying capacity and smaller crews, and an Act was passed forbidding the shipment of goods in any but English ships.
Recent years, however, have seen great improvements in British coastal ships being put into service, for they are fully capable of competing with foreign vessels. Everard's Angularity, which represented British coastal trade at the Jubilee Review in 1935, and the Coast Lines' Pacific Coast are examples of the efficient modern motor coaster.
The prodigious quantities of coal used in London by the public utility undertakings exercised the skill of the naval architect in evolving a type of vessel which would carry large consignments of coal on a shallow draught and so be independent of tides and negotiate all the river bridges at the flood tide when necessary. Thus a type known as the "flat iron" came into being.
These vessels are so named from their squat appearance when seen on the Thames. Their bridge is low in comparison with that of a normal cargo steamer, and all necessary deck fittings, Such as their funnel, ventilators and boat davits, are hinged so that they are easily laid flat on deck, while the short mast telescopes into a tube leading down into the fore hold. Thus representing some what the domestic flat-iron up river, they become more normal in appearance when in the North Sea, and are capable of standing up to the hard weather quite as well as their sea-going sisters.
This type and the modern motor coaster have done more to restore British coastal trade supremacy than anything else.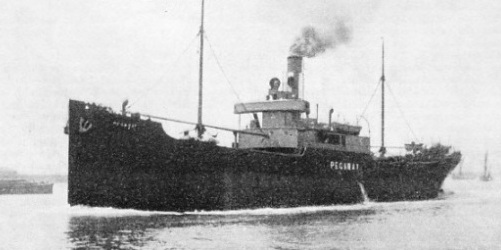 BUILT IN 1924, the Pegaway, 1,826 tons gross, has a length of 260 feet, a beam of 39 ft 2 in and a moulded depth of 21 feet. She is owned by the Hill Steam Shipping Co. Ltd., of Newcastle-on-Tyne.
These improvements are encouraging to British coastal trade, so far as the principal coastal shipping lines are concerned, but the small owner and tramp coasters do not benefit and still suffer from the foreign competition, principally owing to their inability to finance new construction. However much shippers may be willing to cooperate by sending their goods in British ships, it is only natural that the best ships get the cargoes. In this direction much might be done to help the British coastal tramp if the banks would assist in financing new and efficient tonnage.
Motor Coasters
Moreover, there is now another system of transport being revived which will have to be taken into consideration, namely, the inland waterways. British canals are now being modernized, and new types of barges are under construction, with a capacity of 72 tons of cargo and installed with diesel engines.
A subsidy has been suggested to tide over the slump period, but this is not desired by the coastal trade, nor is it a remedy in the long run. The remedy lies in co-operation among all parties concerned in the transport industry. Foreign competition is being met by the new and larger motor coasters which shipowners have been and still are putting into service, and by the cooperation of many of the large shippers in using British ships when available.
It is important to keep in mind the great number of ports around Great Britain which are served by coastal vessels, from the large sea ports to the small, yet none the less important, harbours in between and hidden in the rivers and creeks. Statistics show that there are more navigable ports round the British coastline than in the corresponding distance of any other seaboard. Over three-quarters of the population of Great Britain lives within fifteen miles of these ports. By far the greater percentage of these ports rely almost entirely for their livelihood on coastal trade. Dues, stevedoring, small repairs and supplies are some of the needs which create local prosperity. In the trade itself about 15,000 seamen are employed. Employment in the shipyards, overhauls and other indirect trades is increased when coastal ships are reasonably employed.
Apart from the Thames barges, the few old die-hards of sail still afloat are composed mostly of topsail or fore and aft schooners. They are unquestionably things of beauty and a reminder of the old days of sail, the hard, ruthless days when they built wooden ships and turned out men of iron.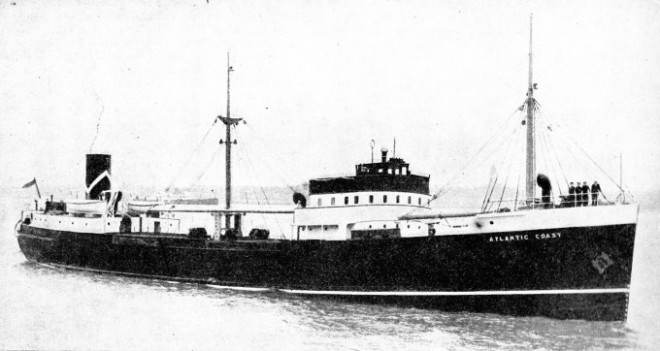 A MODERN DIESEL-ENGINED TWIN-SCREW COASTER built in 1934 by Henry Robb, Ltd., at Leith. The Atlantic Coast, owned by Coast Lines, Ltd., is of 890 tons gross, with a deadweight tonnage of 1,400. She is 231 ft. 7 in. long, with a beam of 35 ft. 2 in. She has a moulded depth of 14 feet, with a corresponding draught of 13 ft. 11 in. Her ten-cylinder diesel engines are of the two-stroke cycle double-acting type.
You can read more on "British Shipping", "Progress of the Motorship" and "Twixt Highlands and Hebrides" on this website.