The "Clement" and "Crispin"
River Amazon Trade Cargo Passengers Ships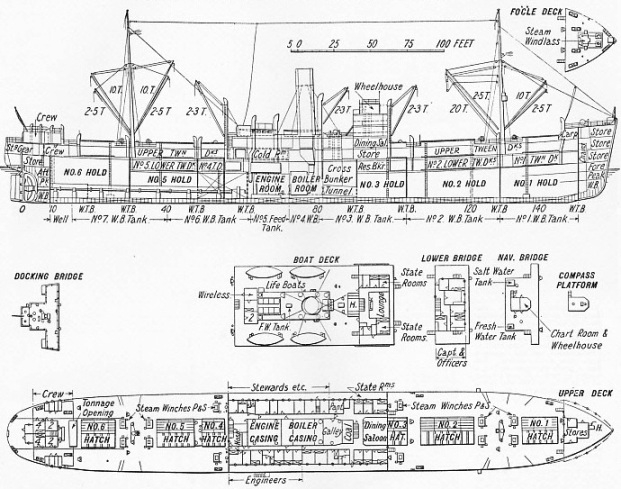 ABOVE is a drawing of one of the steamers engaged on trading up the Amazon to Manaos from Liverpool. The owners are the Booth Steamship Company, and the drawing illustrates the Clement and the Crispin. The details apply to either vessel. They are cargo ships of what is known as the shelter-deck type, and have one complete tier of 'tween decks and a second tier in five of the six holds. The length between perpendiculars is 405 feet, the moulded beam 55 ft. 6 in., the depth to the upper deck 36 ft. 6 in., and the draught in loaded conditions 25 ft. 2½ in.


They are handsome ships with a slightly raked stem and cruiser stern. There are one funnel and two pole masts, and all accommodation and superstructure are concentrated amidships. The superstructure is arranged on the shelter deck around the engine-room boiler-casings and on the deck above. A dining saloon at the forward end of the superstructure seats twenty persons, and there are also four single-berth staterooms and two double-berthed staterooms, in addition to the officers' and crews' quarters.


Insulated chambers for meat, vegetables and cargo are situated at the far end of the machinery casing on the second deck, with entrances from the upper deck and from No. 4 Hatch. Machinery for handling the cargo comprises twelve steam-driven winches, and a coaling winch with extended ends on the boat deck. The steering gear is arranged in the 'tween decks aft.


The propelling machinery consists of a triple-expansion steam engine, with cylinders 24½ in., 40½ in. and 67 in. in diameter and a piston stroke of 51 in. This engine operates in conjunction with a low-pressure exhaust turbine on what is known as the Bauer-Wach system. Special interest attaches to the

Crispin's

boilers, since these are of most up-to-date type in modern steam practice for cargo-carrying vessels. They are of the Howden-Johnson air-jacketed type and have a working pressure of 220 lb. per square inch. There are special superheaters and the boilers, three in number, are arranged athwartships immediately forward of the reciprocating engine.


The total heating surface is 2,597 square feet for each boiler. Steam for the auxiliaries is taken from the superheated steam supply and passed through superheaters.


These two vessels show that, despite the strides which have been made with diesel-engined ships, there are still certain British owners who prefer to rely on steam.