Part 2 of

Shipping Wonders of the World

was published on Thursday 6th February 1936.


It was a standard issue of 32 pages. It included a superb centrefold colour plate illustrating flags and signals, forming part of the article on Signalling at Sea. There was no photogravure supplement.








The Cover
There were no editorial notes to accompany this week's cover design.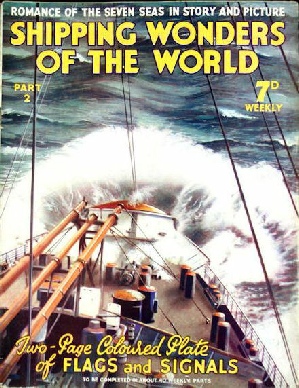 Contents of Part 2


The story of Shackleton's 1907-1909 remarkable expedition to the South Pole, and concluded from part 1.
This is the first article in the series Epics of Exploration.




A corridor between East and West, a vital link with the destiny of nations, and a short cut to India, the Suez Canal looms large in the story of the sea.
This chapter is the first article in the series on World Waterways.




Two rival racing clippers that thrilled the world and brought fame to their masters on epoch-making voyages across the oceans.
This chapter is the first article in the series Speed Under Sail.




The development of marine communications from the makeshifts of the sixteenth century to the fine art of to-day, exemplified by the revised International Signal Code of 1934. The article includes a two-page colour plate which is illustrated below.

























































FLAGS AND THEIR MEANING (

left hand illustration

)
1. Union Flag, flown at the bow by all warships when at anchor ; 2. White Ensign, flown by H.M. warships and yachts of the Royal Yacht Squadron (R.Y.S.) ; 3. Blue Ensign - R.N.R. ensign, flown by merchant ships commanded by R.N. retired and R.N.R. officers, in certain conditions, and by approved members of certain yacht clubs ; 4. Red Ensign, flown by all other merchant ships ; 5. Royal Standard ; 6. Admiralty Flag ; 7. Trinity House Flag 8. Lloyd's Ensign, flown at signal stations.


INTERNATIONAL CODE OF SIGNALS (

right hand illustration

)
A-Undergoing Speed Trial; B-I am taking in or unloading explosives; C-Yes (affirmative); D-Keep clear of me. I am manoeuvring with difficulty; E-I am altering course to starboard; F-I am disabled - communicate with me; G-I require a pilot; H-I have a pilot on board; I-I am altering course to port; J-I am going to send a message by semaphore; K-You should stop your vessel instantly; L-You should stop. I have something important to communicate; M-I have a doctor on board; N-No (negative); O-Man overboard!; P-(Blue Peter—in harbour ; At sea—your lights are out); Q-My vessel is healthy. I request free pratique; R-The way is off my ship; S-Engines are going astern; T-Do not pass ahead of me; U-You are standing into danger; V-I require assistance; W-I require medical assistance; X-Stop carrying out your intention and watch my signals; Y-I am carrying mails; Z-Used to address or call shore signal stations.
9. British Pilot Signal. (Is also flown at the bow by ship which is flying pilot flag H, or No. 23.); 10. Engines going astern; 11. The Blue Peter - vessel about to sail; 12. Quarantine Flag; 13. International Code Pilot Signal (P.T.); 14. Customs House Flag; 15. War Department Flag; 16. Distress Signal. (Letters N.C. of International Code.); 17. Distress Distant Signal. (Seldom used.); 18. Admiral of the Fleet - when flown at the foremast head. (See also No. 1.); 19. Admiral; 20. Vice-Admiral; 21. Rear-Admiral; 22. Commodore's Broad Pennant; 23. British Pilot Boat Flag; 24. Blue Ensign, flown by Fleet Auxiliaries; 25. Canadian Merchant Ensign; 26. Australian Merchant Ensign; 27. Royal Mail; 28. Cone warning of Northerly Gale; 29. Cone warning of Southerly Gale.




When the architect of a vessel has finished his preliminary work the construction begins, entailing skill and labour that may endure from six months to six years.




The train ferry must carry railway carriages, freight cars and sometimes locomotives on her main deck. In addition, sleeping and dining accommodation for passengers and, in many modem ships, a garage are essential. Since much of the heavy cargo is on deck, the hull - as will be seen - is a broad, shallow one, and there is ample space below the deck for machinery. This is the first article in a long-running series illustrating various Merchant Ship Types.




Weary toil and frustrated hopes were the lot of the indomitable men who salvaged the gold and silver from the Egypt, which for eight years lay undisturbed more than seventy fathoms below the surface of the sea.
The article is the first in the series on Dramas of Salvage. The article concludes in part 3.