A Dutch East Indies Inter-Island Packet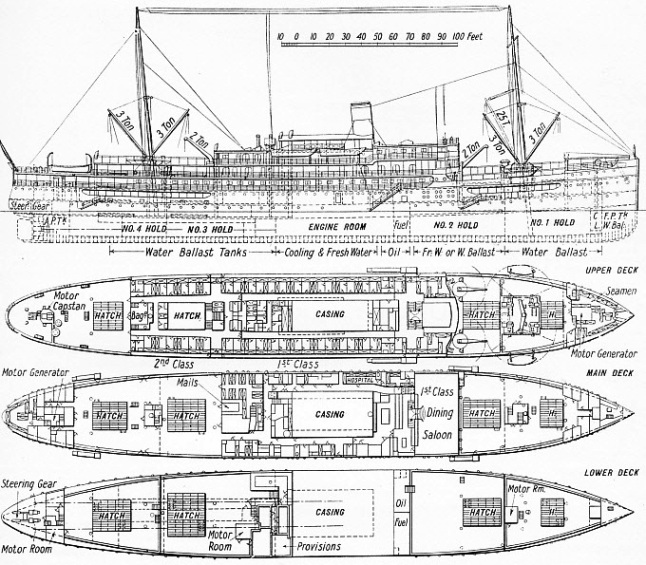 THE Royal Packet Navigation Company maintains services ranging from long-distance runs between Java and Sydney, New South Wales, to short runs involving many stops among the islands of the Dutch East Indies with little vessels of the coastal type. The Ophir is in size and capacity midway between the large vessels on the Australian trade and the small ships in the inter-island business.


She is engaged in the express service along the north coast of Java, in which there are sailings twice a week in either direction between Batavia and Surabaya, with a call at Semarang. The

Ophir

is a motor-driven vessel of 4,070 tons gross, with accommodation for 62 first-class and 48 second-class passengers. Completed in January 1929 in Amsterdam, she has a length of 370 ft. 5 in., a beam of 51 ft. 8 in. and a depth of 19 ft. 10 in., her load draught being 20 feet.


Propulsion is by means of two Werkspoor four-cycle single-acting engines, each having seven cylinders of 23.5 in diameter and 41.75 in. stroke. The total power developed is 4,600 brake horse-power at 125 revolutions. When motoring at 15 knots she uses about 20 tons of oil a day for all purposes.


An examination of the plans reveals at once that the vessel is intended exclusively for work in tropical regions. This is apparent from the high 'tween deck spaces, which are open at the sides as much as possible. The cabins are mostly outside cabins with wide windows instead of port-holes, and the public rooms are particularly well ventilated. On all the weather decks will be noticed the heavy awnings which are typical of vessels operating in the tropics.


At the same time there is ample provision for cargo carrying. There are four holds in all, served by hatches on the upper and main decks. There is also provision for the carriage of cargo under insulated conditions. Cargo is t handled by 3-tons derricks and 2-tons electric cranes. On the foremast there is also a 25-tons derrick which is used for lifting heavy weights. There is a double bottom all fore and aft, and this is used for fuel oil, fresh water and water ballast .