A Cargo Liner in Indian-American Trade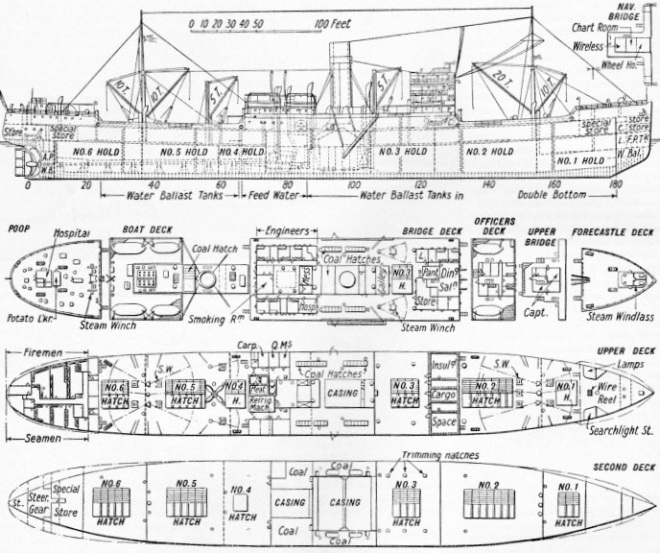 ABOVE is a good example of an up-to-date steam-driven cargo liner. She is the Marwarri, completed in 1935 at Port Glasgow for the Indian-American trade of T. and J. Brocklebank, Ltd. She has a length of 470 feet, a beam of 62 ft. 9 in., a depth to the upper deck of 34 ft. 10 in., and a deadweight carrying capacity of 10,250 tons. In service she has a speed of about 13½ knots, given by a single set of turbines driving the screw through single reduction gearing. The turbines themselves turn at about 2,500 revolutions a minute and develop 5,200 shaft horsepower. Steam is generated in four single-ended boilers 17 feet in diameter and 12 ft. 6 in. long, each having four furnaces operating under forced draught. The

Marwarri

is registered at Liverpool.


The ship is of the three-island type, having two complete decks and a third deck in the fore hold. She has a raked stem and a stern of the cruiser type. The poop is fitted out to provide accommodation for the crew and the long bridge structure has a large centre deckhouse containing the saloon, staterooms and other compartments. The officers' deckhouse is above the saloon and the captain's rooms are situated over the officers' deckhouse. Over the captain's rooms are the flying bridge and the wireless room, charthouse and pilot house.


Engineers and petty officers are accommodated in houses alongside the machinery casing, at the after end of which is a smoking-room.


A double bottom extends for the full length of the ship and is arranged for carrying water ballast. Water ballast can also be carried in one section of the after hold and in the fore-and-aft peak tanks. There are six cargo hatches, the weather deck hatches being fitted with Reith hatch beam side supports and stiffeners. For cargo handling purposes fourteen steam winches have been installed and there are altogether seventeen derricks mounted either on the masts or on derrick posts.


The forward end of the bridge space is fitted for the carriage of refrigerated cargo in roomy insulated chambers.