Vivid extracts from the log of the late Captain James William Holmes, who served in famous vessels in the heyday of the sailing ship era. His experiences before he achieved command are related here and illustrated from some of his own paintings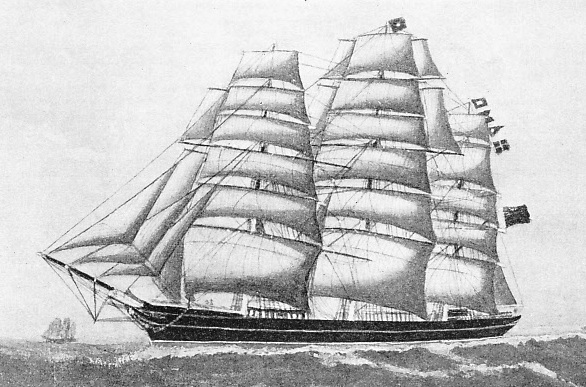 A SOARING MAINMAST 150 FEET HIGH was one of the distinctive features of the Salamis. Captain Holmes, who sailed in her as third mate and painted the original of this illustration, thought "she was the most beautiful thing afloat". She was an iron ship of 1,130 tons gross, built at Aberdeen in 1875.
THE last half-century has seen many changes in our national life, yet none is more startling than the passing of the British sailing ship; and this is the more extraordinary in that it was not the slow transition of time, but a complete metamorphosis. During the lifetime of men to whom the word "ship" signified a thing of beauty and white spread sails, that form of vessel has been replaced by a mechanical contrivance without a stitch of canvas.
Whereas before the war of 1914-18 British sailing ships carried the Red Duster proudly into every port of the globe, to-day there is not one deep-sea sailing ship under that flag. They pass before us in a vision of time, a long procession of increasing stateliness and power, culminating in that perfect work of man, the British sailing ship of the late 1870s.
Then, in the height of their pride and perfection, they pass completely. The moment of their departure was unnoticed, but their glory was undimmed. They continued to make fine passages,
they fought for every inch through the fury of the gale when the world had ceased to mark their exploits and bets were no longer taken on the date of their arrival.
With the object of preserving the memory of those glorious ships of yesterday, I have painted all those in which I sailed between 1869 and 1921. And for the life on board them, let memory recall the days that were.
I cannot say I chose the sea as a career; that was done for me before I was born. All my ancestors were sailors from Deal and Dover. My father, grandfather and great-grandfather were Cinque Port pilots. All my contemporary relatives were sailors or married to sailors, so my intention of going to sea was formed with my first dawn of consciousness; and looking back now, over 74 years, I know that if I had to choose again I should choose the same. A ship may be a hard mistress, but her fascination is not to be denied, and time cannot dim it. So it came to pass that at the age of 14 years I joined the barque Talavera. She was a wooden barque of 384 tons -register with a figurehead of the Duke of Wellington, and was built in 1858 for Manning and Anderton, of London. She was a terribly hard ship, even for those times when life afloat was always terribly hard, for not only was she under-stored, but everything on board her was bad, even from the outset.
She was a regular West Indian trader, loading sugar at St. Kitts (Leeward Islands) at Christmas and reaching London the following March — and the five months of that round voyage were a nightmare of starvation. The tea I poured into my numbed little body that first night at sea made me heave my inside up. I think it was concocted from coir and broom bristles, but it never owned a tea-leaf. I served all my four years' apprenticeship on cold water, except when we boys could steal a cup of coffee from the cabin coffee-pot. Bread we never saw. The biscuits could only be broken by a belaying-pin and they could almost walk across the deck with the weevils in them. We boys sometimes made amusement for ourselves by organizing races between each other's weevils.
The salt beef had to be chopped through like a block of mahogany, and the salt pork — streaked with green — could be smelt all over the ship when the first cask was broached.
Well do I remember the morning we arrived in London. The overlooker was awaiting us. As he came aboard he said "Had any breakfast?" knowing I had had none for about 150 days, and adding, "Go ashore and get some", as he gave me half a crown. And all that half-crown, plus a shilling of my own, went on one glorious feed!
As this trip was intended as a trial before my apprenticeship, it is perhaps unnecessary to remark that I did not repeat it, but was apprenticed next December in the Blair Athol, which, if not better, was perhaps "not quite so bad".
The Blair Athol was a wooden barque of 443 tons register, built at Shoreham, Sussex, and was the biggest vessel belonging to that then busy little port; for Shoreham could boast 350 brigs and barques built for the Mediterranean and other trades. The Blair Athol — a Mediterranean and Black Sea trader — was a nice-looking ship, with a Highlander as figurehead, and built of mahogany from a wrecked ship's cargo. But of her skipper, the best thing I can say of him is that he was the worst man I ever sailed under — a drunken, bullying, callous brute, without nerve or conscience.
We made our first trip to Alexandria (Egypt), and on the way through the Mediterranean we passed a ship in the night. Hailing her, we asked her name, and through the twilight came a name famous a generation before. "The Marco Polo!" thinly floated back, as the gallant old veteran, then a Norwegian, passed like a ghost of her former days.
A Brutal Skipper
In Alexandria I saw another ship renowned in bygone days. This was Captain Marryat's ship, the Ariadne, in which he wrote his novels. She was then used as a coal hulk for the P. and 0. Company, a pathetic but common fate for ships that were not "sold foreign".
I painted a picture of her for her skipper, and it is almost unbelievable that a man who has seen the Marco Polo and Ariadne afloat should live to see the Queen Mary built, and remember all the famous ships between them. The next trip we made from South Shields to Alexandria, the Black Sea and the Sea of Azov reaching the latter in the depth of winter. And here we suffered all that a Russian winter and a brutal skipper could inflict upon us.
We lay seventeen miles off the port of Berdianski, inside a fourteen-feet bar, and we poor devils of boys had to row the Old Man ashore each day and wait for him till 2 a.m., shivering in an open boat and clad only in dungarees, for the old demon would not let us wear a jersey or monkey-jacket even in the boat. And at sea, with a temperature at freezing-point, we poor starved, shivering little wretches, fifteen years old, had to take our trick at the wheel without so much as a pair of mittens, at the sight of which he would land us a clout that sent us staggering across the deck.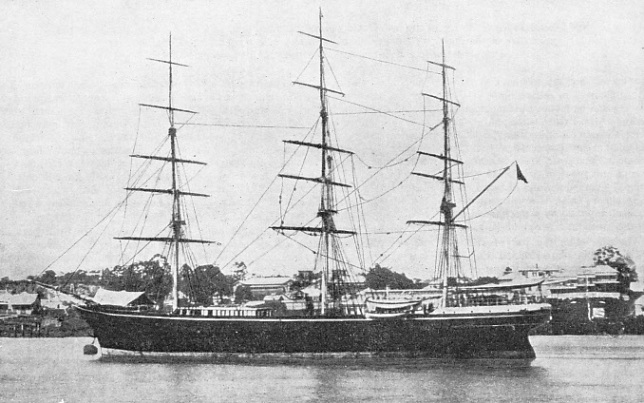 BUILT IN 1870 by Maudslay and Field for J. Willis and Son the Blackadder (970 tons gross) was the sister ship of the Hallowe'en, which came home from Shanghai in ninety-one days, thus justifying her short existence as a tea clipper. She went ashore near the Start, Devonshire, in 1886. Captain Holmes sailed in both vessels.
So the days passed with ever-increasing coldness, till the Old Man realized that if he didn't get out of Berdianski soon he would not get away at all, for the Sea of Azov was fast freezing over. In a frenzy of haste, therefore, we finished loading in fourteen days, working day and night, loading wheat in bulk, lying on our tummies to pack the wheat up tight to the beams with hand scoops. Then we set sail for Kertch, with the hope of some rest for our aching bodies.
There was, however, a 14-feet bar to be negotiated, and all our choking, suffocating labour to be undone and done again as we unloaded into lighters — and re-loaded — up anchors, set sails, drop anchors, load up again, beam filling on our empty tummies, with aching arms and backs, choking lungs, and eyes smarting with dust and heavy with sleep.
The Blair Athol's end came before our time was out, and we boys were transferred to the Argosy to finish our apprenticeship. And here befell an incident which might have finished it indeed. We took coals from Shields to Montevideo (Uruguay), and sailed from there in ballast to Valparaiso (Chile) and Iquique for saltpetre.
We were twenty-eight days out and thirty miles south of Valparaiso, and had just made the land when the wind fell away to a dead calm. There was a heavy swell rolling in shore, where three or four miles off the stark, perpendicular mountain sides came down to a bottomless sea. There was no possible anchorage, and we were being slowly rolled in to our doom.
There remained but one hope between us and destruction, and that was muscle. So we put out our boat, with four men rowing, to pull the ship from the jaws of death — a frail tug surely to be pitted against the relentless force of the open Pacific swell. We four apprentices, left to man the ship, took spells of rowing two hours on and two hours off with the four A.B.s, while the skipper and his wife took turns at the wheel.
So we toiled and strained through the long hours of that day and night, towing a ship with four men's arms against the might of the ocean swell, which, lifting the ship's boom with every roll, carried the boat back and broke several oars.
Then on Monday morning a puff of wind blew from the shore and so we "came into the haven where we would be."
Rusty Mud as Drinking Water
But on our homeward voyage from Iquique we narrowly missed the worst of sea tragedies — no water. Before leaving Valparaiso we filled up from the water-boat our 400-gallons tank and the 2,000-gallons main tank, while the four 100-gallons casks on deck were kept filled from the water-boat running up the coast. After about thirty days out our deck casks were empty, and the 400-gallons tank was down to a few inches of thick rusty mud, so our old cook broached the main tank for tea. When we tasted the tea we all repaired to the galley to tell him what we thought of it. He shipped the pump again and made some more, with the same result. Our whole fresh water-supply was salt! Investigation only deepened the mystery and consternation. The tank was perfectly sound and filled with salt water. The old devil in the water-boat, running short, had pumped it in from the sea.
We were straightway put on rations of three half-pints daily of rusty mud as black as ink, which lasted us a fortnight, battling all the time with north-easterly gales. On the day of the last serving-out, after mopping up the tank with rags and squeezing out the last drop, we made the Falkland Isles.
At the end of this voyage I passed for second mate at the age of 19 and returned to Deal for Christmas with my certificate in my pocket. And there it was destined to remain for many weary months. I could not have struck a less favourable opportunity for putting it into action. All the January wool ships were coming in. Nothing was sailing. Paid-off ships' companies were already haunting the docks for the first ship outward-bound. The docks were crowded with stately ships, but still more crowded with men waiting to sign on.
Moreover, such was the fashion of those times, that the very beauty of my clean-shaven young face went against me, when all men of sufficient maturity went "bearded like the pard".
STEAMSHIP WHICH SANK IN A LANDLOCKED HARBOUR. When Captain Holmes was in the Hallowe'en at Sydney, Australia, he saw the Orient liner Austral, reputed to be unsinkable, go down in 49 feet of water. The curious disaster was due to negligence during coaling operations The Austral was later salved and returned to service. Built in 1831, she was of 5,524 tons gross. Her length was 456 feet, her beam 48 ft. 2 in. and her depth 33 ft. 10 in.
So after many cold and fruitless days of weary dock tramping, and cutting allusions to my chin, I joined the Kosciusko as A.B. The wooden ship Kosciusko was built in 1863 for the Aberdeen White Star Line. She was 1,192 tons register, built of pitch pine, and painted green with a yellow stripe, and with towering white masts like all Thompson's ships. Her figurehead was Kosciusko himself, the Polish patriot.
She was a passenger ship with a poop 70 feet long taking up half her deck length, and we had four or five passengers aboard. Perhaps it was in deference to their presence that we burned sidelights all the voyage, but the Kosciusko was the first ship I was in which showed her lights in mid-ocean. When I was a boy, side-lights were taken in and emptied as soon as we left the English Channel. Even in the Mediterranean lights were only burned on dark nights, but the disastrous collision of the Kapunda, which was sunk with about 400 emigrants south of the Trades, drew attention to the necessity for constant lights.
The Kosciusko carried twenty-two A.B.s, six ordinary seamen, eight apprentices, three mates, a boatswain and two or three stewards, over forty in all, and was the most heavily manned ship I was ever in. My previous ship, the Argosy, carried four men and four apprentices for her total crew, and my next ship, the Salamis, with twice as much canvas as the Kosciusko, carried only thirty-five all told, though she was all legs and wings. The Kosciusko was very fast and a splendid ship at sea, but she was never deeply loaded.
Compliment to Plimsoll
Samuel Plimsoll, pleading his Bill for a loading line in Parliamentary debate, instanced George Thompson's as the one line that never loaded their ships deeply, and in return for this compliment they called their next ship the Samuel Plimsoll. They thought of calling the Salamis the Sarah Plimsoll, but she was built as sister ship to the Thermopylae, so she was named accordingly.
Thompson's ships sailed two a month all the year round, one for Sydney and one for Melbourne, always leaving London on a Saturday and anchoring at Gravesend till Monday to allow the crews to sober up. The same thoughtful practice was followed by Wigram's and Green's Blackwallers.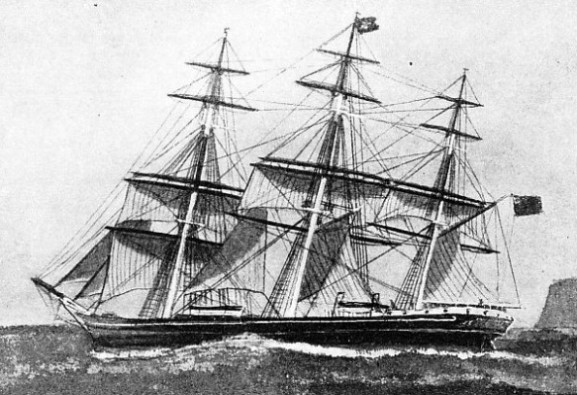 A VIVID PAINTING of the Blackadder by Captain Holmes. The Blackadder had a gross tonnage of 970 and was built in London in 1870. She had a length of 216 ft. 7 in., a beam of 35 ft. 2 in. and a depth of 20 ft. 6 in. These measurements were also those of her sister, the Hallowe'en built at the same time, except that the Hallowe'en had a gross tonnage of 971.
We made a splendid run to Sydney, which at that time could boast of little but its harbour, and that was just as Nature left it, for it was a day's work to moor a ship at a stage. Two anchors were dropped off the shore side, and two trees, 80 or 90 feet long, were lashed to the rails, and a platform built on them. But every inch was crowded with ships loading wool, and great was the race between them for the January wool sales.
We arrived on New Year's Day, 1876, and the skipper, on paying off the ship's company, offered me the third mate's job, but I was not anxious to sail again in the same ship. Fine ship though she was, there were then more ships than parish churches.
In February 1876 I sailed as third mate of the Salamis, and a lovelier ship it would tax the imagination to conceive. She was built by Hood's of Aberdeen for George Thompson in 1875, and was a companion in iron to the Thermopylae in composite. She was the first iron ship I was in, though Thompson's Patriarch, built in 1869, was the first iron ship from Aberdeen yards. The Salamis had a billet or fiddle figurehead, with a little Grecian warrior on each side, and the yellow stripe round her green hull was not painted, but gilded. She was glorious to behold. I think she was the most beautiful thing afloat.
We were seventy-six days from Plymouth to Melbourne . but they were not uneventful, for in running the Easting down we lost the wheel. From Melbourne we went to Sydney in ballast to load coal for Shanghai; but the Ascalon was loading first, so we went in ballast with only 1,000 tons of coal.
We were thirty-two days to Shanghai, which is the second-best passage for the trip, the Thermopylae holding the record with twenty-eight days. In Shanghai there was no charter to be had for our gallant little racer. The tea trade was finished for the proud sailing clippers, for the Suez Canal had now been opened several years.
W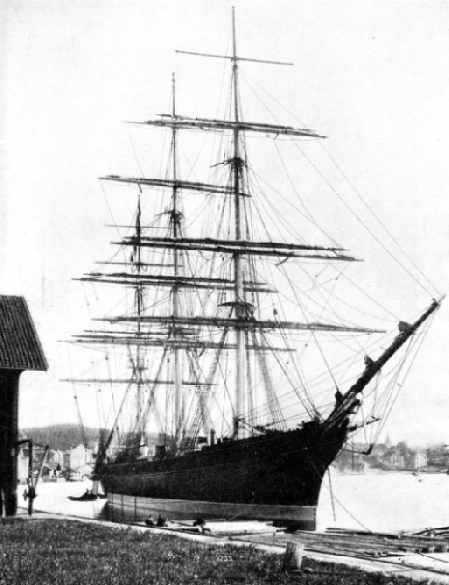 e lay a month in Shanghai waiting for something to load. Still nothing could be found for one of the fastest and handsomest of a gallant fleet. The lovely queen was indeed a beggar maiden seeking anything available, and finding nothing; so at last we loaded ballast and ran down to Hong Kong, making an extraordinary passage of two days through the Formosa Channel in the north-east monsoon, averaging about 360 miles a day.
CONSORT TO THE FAMOUS THERMOPYLAE, the Salamis was built by Hood's of Aberdeen for Thompson's Aberdeen White Star Line in 1875. An iron vessel of 1,130 tons gross, she had a length of 221 ft. 7 in., a beam of 36 feet and a depth of 21 ft. 8 in. She had a billet or fiddle figurehead with a Grecian warrior on either side. Her hull was painted green Captain Holmes sailed as third mate of the Salamis in February 1876.
No steamboat could do it then, and perhaps not even now in similar circumstances. Fast she undoubtedly was. Although the smallest iron ship of the fleet, her average from Melbourne to London was eighty-seven days for eighteen passages. But I recall her as the most beautiful of all the beautiful Aberdeen White Star clippers.
The Kinfauns Castle, a beautiful ship, previously commanded by my uncle, Captain W. Holmes, who took her from the stocks in 1868 for the tea trade, was the most talked-of ship of her day for her strikingly handsome appearance.
An Extraordinary Disaster
The Loch Fergus was built at Glasgow in the early 1870s by D. And W. Henderson with all the lavishness that the builders' art could bestow on her, all her deck woodwork being varnished teak, and her cabin panelled in mahogany and bird's-eye maple.
The Hallowe'en was the first of Willis's ships in which I sailed as mate and, like the Blackadder in which I sailed later, she was built in London by Maudslay and Field in 1870. She was intended for a tea clipper, and justified her short existence in that trade by coming home from Shanghai in ninety-one days. She was also one of the last ships to load tea, and had a tea cargo when she went ashore near the Start in 1886.
When I sailed in her we were bound for Sydney, where she had already established her fame in the wool trade, having made her maiden trip there under Captain J. Watts in sixty-seven days.
While lying in Sydney Harbour on her next trip, I saw the most curious disaster I have ever witnessed. Looking from my porthole one night I saw the fine new steamer Austral (reputed "unsinkable") go down in forty feet of water in a landlocked harbour. Calling the second mate and all hands, I lowered our boats and picked up some hundred survivors.
Next day we learned the cause of this disaster. She was coaling through large square ports apparently without proper supervision, till the ports reached the water-line, when she silently and suddenly disappeared.
On her next outward voyage the Hallowe'en might have been my first command had Fate but delayed my letter of resignation for a few hours. For the very night I wrote it was the captain's celebration, and, failing to receive Willis at his usual hour, 9 a.m., he was fired on arrival. "The ship would have been yours," said Old John to me, "but you are no longer in my employ".
That was the second time I had missed command by a few hours, the first being at the age of twenty-six, when I gave up the command of a fine ship for the sake of a wife, it being the way of a sailor to count all well lost for love. But in 1890 my third chance came, when I took command of the Leucadia.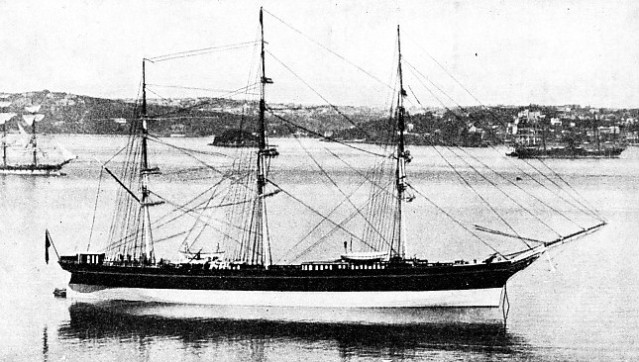 AN ABERDEEN WHITE STAR CLIPPER in the same fleet as the Salamis and the Thermopylae. The Miltiades was built at Aberdeen in 1871 for George Thompson and Company, owners of the famous fleet of clippers. With a gross tonnage of 1,495, she had a length of 240 ft. 6 in., a beam of 39 ft. 3 in. and a depth of 23 ft. 3 in
You can read more on , "Fifty Years in Sail 2", "Romance of the Racing Clippers" and
"Thermopylae and the Cutty Sark" on this website.